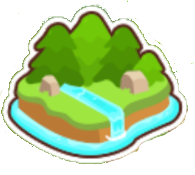 An Island is the source of everything, with the an island, players can build shops or add decorations to attract foodies to visit their island.
Currently Restaurant Paradise provides 3 islands to players, the first island is unlocked from the start, the second island is available at Level 20, the third island is available at Level 30.
Islands start from a size of 14x12, which can be expanded for coins. Islands are not connected in any way.
Players can click

to buy an island or travel to another islands. Island names can also be changed here.
Investment: New Island
Edit
Second Island
Edit

Second island is available when the players reach Level 20, it can be unlocked via investing in the tasks pictured above, for a price of 680,000

. Once the investment is completed, the player will get a new, empty island and earn 3 diamonds.